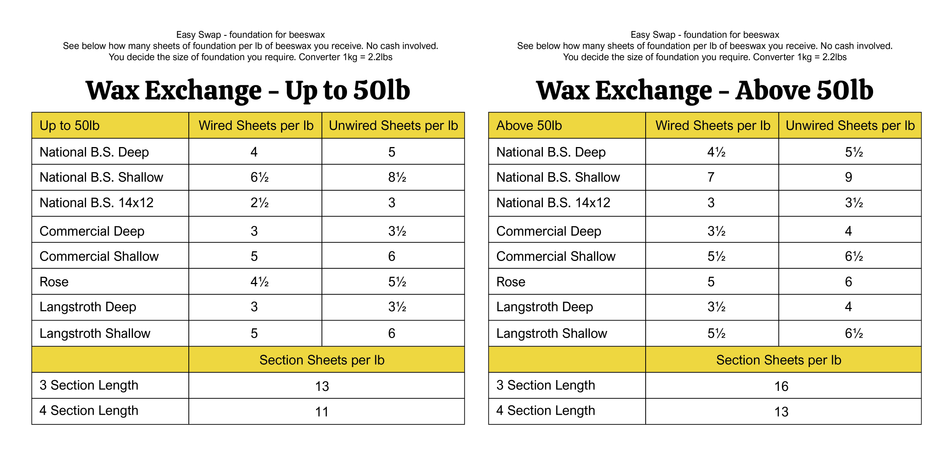 BEESWAX EXCHANGE SERVICES
Looking to produce your own beeswax sheets? Our excellent wax exchange service gives you the chance to exchange your raw beeswax for foundation sheets.
If you have any queries or questions about our wax exchange or conversion services then feel free to get in touch and we'll do our best to help!
Seirbhísí Malartaithe Céir bheach
Ag iarraidh do leatháin céir bheach féin a tháirgeadh? Tugann ár seirbhís malartaithe céir den scoth deis duit do chéir bheach amh a mhalartú le haghaidh leatháin bhunaidh.
OPENING HOURS
Monday – Friday 9am-5pm | Saturday Opening hours vary, please phone ahead at least a day in
advance | Sunday CLOSED
* Closed for Christmas 2022 from 23rd of December to the 5th of January 2023
If you're visiting the premises, please call us in advance so we can make arrangements for someone to meet you. We attend a lot of conferences and shows throughout the year and might not be available - we don't want you to be disappointed when you arrive!
If you'd like to discuss your beekeeping needs, phone us on: +353 (0) 74 97 10140 (IE) or +44 (0) 20 3582 3502 (UK)
If you can't seem to find the product you need on our website be sure to get in contact with us, and we'll do our best to source the product that you need.
We hope you have a successful future of beekeeping!