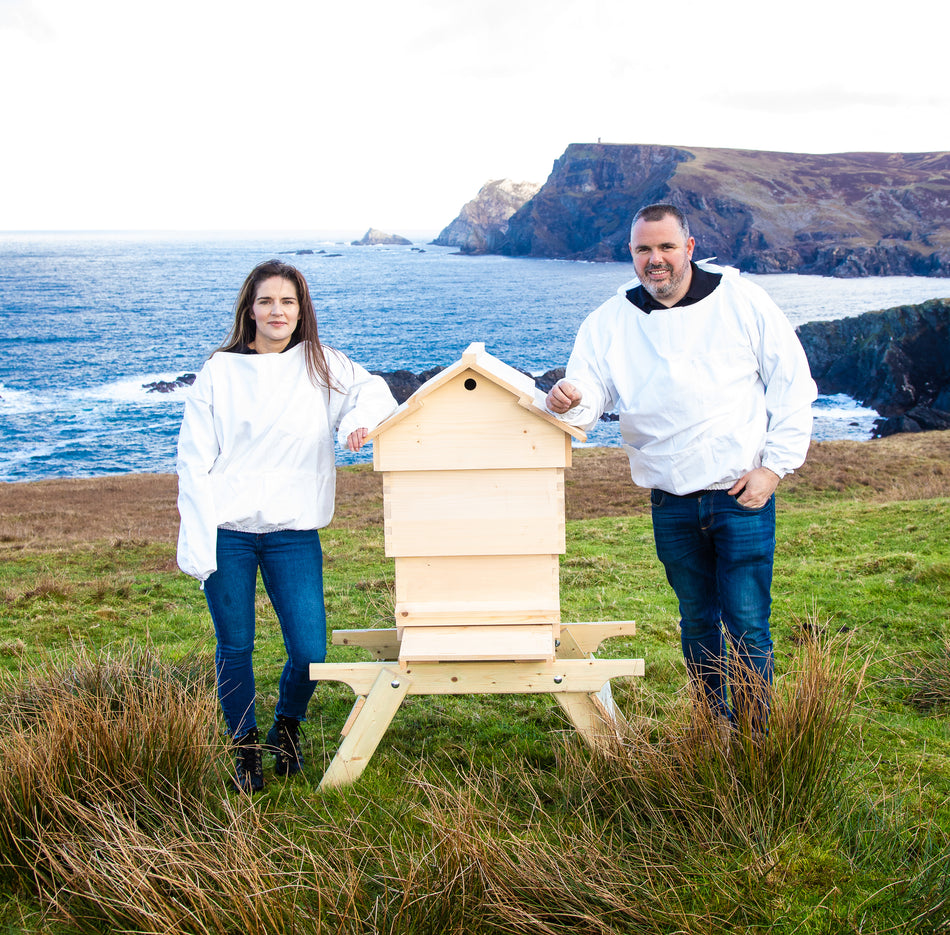 HOW WE STARTED
Donegal Bees was founded in 2013 by Thomas Ellis. Thomas began by making CDB hives in a small shed for some neighbours and friends, and over time realized that was quite expensive for the average beekeeper to purchase high-quality beehives and beekeeping equipment in Ireland. It was then the idea Donegal Bees was born.
Donegal Bees is now co-owned and directed by Thomas Ellis and Áine Curran. Áine joined the company in 2015 with extensive experience in customer service, accounting, and office management/systems. Our goal is to make beekeeping more affordable for everyone in order to sustain beekeeping culture in Ireland as it is so vitally important for our environment.
If you're new to the world of beekeeping, we have a number of products in our catalogue that are perfect to help kickstart your beekeeping career or hobby. Seasoned expert? Well, you probably know what you're looking for, but we're here to help you if you get stuck.
AN DÓIGH A THOSAIGH MUID
Bhunaigh Tomas Ó hÁilis Beachóga Dhún na nGall in 2013. Thosaigh Tomas ag déanamh coirceoga CDB i botháin beag do chomharsana agus cairde áirithe, agus le himeacht ama thuig sé go raibh sé costasach go leor don bheachaire meánach coirceoga agus trealamh beachaireachta ar ard chaighdeán a cheannach in Éirinn. Is as an smaoineamh sin a rugadh an ghnó Beachóga Dhún na nGall.
Tá Beachóga Dhún na nGall anois ina ghnó le chomh úinéireacht agus faoi stiúir Tomas Ó hÁilis agus Áine Curran. Tháinig Áine isteach sa chuideachta in 2015 agus taithí fhairsing aici ar sheirbhís do chustaiméirí, cuntasaíocht, agus bainistíocht/córais oifige. Is é an sprioc atá againn mar ghnó ná beachaireacht a dhéanamh níos in acmhainne do chách, le cultúr na beachaireachta a chothú in Éirinn mar go bhfuil sé ríthábhachtach dár dtimpeallacht.
Más rud é go bhfuil tú nua i saol na beachaireachta, tá roinnt táirgí inár gcatalóg atá foirfe chun cabhrú le do ghairm bheatha nó le thosú ar caitheamh aimsire beachaireachta.
An Saineolaí le taithí thú? Bhuel, is dócha go bhfuil a fhios agat cad atá uait, ach táimid anseo chun cabhrú leat má théann tú i bhfostú nó ar strae.
OPENING HOURS
Monday – Friday 9am-5pm | Saturday Opening hours vary, please phone ahead at least a day in
advance | Sunday CLOSED
* Closed for Christmas 2022 from 23rd of December to the 5th of January 2023
If you're visiting the premises, please call us in advance so we can make arrangements for someone to meet you. We attend a lot of conferences and shows throughout the year and might not be available - we don't want you to be disappointed when you arrive!
If you'd like to discuss your beekeeping needs, phone us on: +353 (0) 74 97 10140 (IE) or +44 (0) 20 3582 3502 (UK)
If you can't seem to find the product you need on our website be sure to get in contact with us, and we'll do our best to source the product that you need.
We hope you have a successful future of beekeeping!
We're proud to be the official Irish distributors for these great companies: